COMBIMASS® GA-s hybrid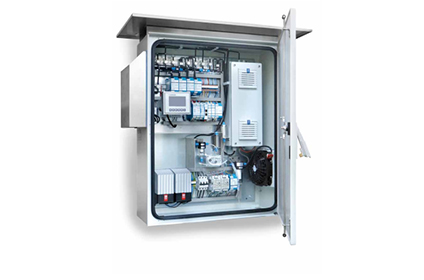 THE COMBIMASS® GA-s hybrid ANALYZER STATION
COMBIMASS® GA-s hybrid分析仪站
For decades now, Binder has been supplying leading plant manufacturers with innovative systems for industrial gas flow measurement. In the last few years, the demand for reliable, precise and cost-effective measuring systems for biogas, sewage gas and landfill gas has increased significantly. Since the composition of these gases changes over time, the linking of flow measurement and gas analysis brings great advantages:
几十年来,Binder已成为提供设备和工业气体流量测量创新系统的制造商。
在过去的几年中,适用于沼气、污气和填埋气的可靠、精确和成本效益测量系统的需求显著增加。由于这些气体的组合物会随时间发生变化,因此流量测量和气体分析实现衔接呈现出极大的优势:
l Always providing the most precise quantity measurement, even in changing conditions
l 始终提供精确的数量测量,即使是在不断变化的条件下
l Cost advantages by avoiding the doubling up of components
l 成本优势,避免组件的使用数量翻倍
l Attractive additional functions by linking the data from both systems.
l 有吸引力的附加功能,通过连接两个系统中的数据。
Modern agricultural anaerobic digestion plants cannot meet commercial and environmental
requirements without appropriate measuring and analysis technique. For the economical
operation of the fermentation plant it is likewise necessary to consider the gas composition and
quantity of the individual digester stages to control feeding cycles load-depending. Beside this
analysis is often used for monitoring and control of desulphurization stages in front of the CHP´s.
In biome thane upgrade plants analysis is used to monitor and control each single stage of process.
现代化的农业厌氧消化设备不具备适当的测量和分析技术,无法满足商业和环境要求。
为实现发酵设备的经济运营,同样需要考虑气体组分和各个沼气池阶段的质量,以便控制
取决于负载的进料周期。此外,该分析通常用于监测并控制CHP前方的脱硫阶段。
生物甲烷设备中的分析用于监测并控制过程的每一个阶段。
While the gas composition (except during on and driving off phase) in liquid fermentation plants changes usually only very slowly between feeding cycles, the gas flow is subject to certain short term fluctuations, as they are caused for example by the agitator or different humidity content under variations in temperature. Therefore it is appropriate that at each digester a thermal mass flow meter is installed firmly and connected with the Analyzer station GA-s hybrid. Gas flow will be corrected automatically by changing gas composition. In dry bed (e.g. solid waste) fermentation stages the measuring cycle must be if necessary adapted. Here not only the gas flow but also the gas composition changes substantially more strongly. The methane concentration can from 15 to70 Vol.-% vary. A combination of the measurement of volume with the gas analysis is inevitable, if the values are to exhibit an acceptable accuracy.
当液体发酵设备中的气体组分(接通和去电阶段除外)在进料周期期间变化相当慢,气体流量会受到一定的短期波动,这是由搅拌器或因温度变化产生不同湿度含量造成的。
因此,在每一个沼气池中牢固安装热式质量流量计并与混合气体分析站相连是极为适当的。
改变气体组分能够自动校正气体流量。在干床(如固体废弃物)发酵阶段,必须在必要时
调整测量周期。这里不仅气体流量会发生显著变化,气体组分也会发生显著变化。甲烷浓
度在15到70 Vol.-%之间变化。如果这些数值呈现出可接受的准确度,那么体积测量和气体
分析的组合进行是必然的。
In sewage treatment plants analysis is used to monitor digester gas quality and control of H2S-
filter in front of the CHP, to reduce the wear and increase maintenance cycles. Often the manufacturer of the CHP stations limit their warranty if the gas quality is not monitored sufficiently well.
污水处理厂内的分析用于监测沼气质量并控制CHP前方的H2S过滤器,以便减少磨损并延长维护周期。通常,如果气体质量未得以良好监测,那么CHP站制造商会限制保修期。
In landfills analyzer are often used (mainly portable instruments) for long-time monitoring of
single dwells and/or monitoring of gas quality in collector pipes. Because gas quality becomes
worse with the age of the landfills, the gas from dwells (poor gas) is mixed with other methaneous gases (good gas), coming from e.g. anaerobic digestion of green cuttings or composting plants to meet minimum requirements on methane concentration in the mixed gas. Also in this application gas analysis can monitor the quality of gas mixes.
填埋场分析仪通常用于(主要是便携式仪器)长期监测单井和/或集气管中的气体质量。
由于气体质量会随着填埋场使用年限的增加而变差,因此将井中的气体(贫气)与绿色插枝
或堆肥厂的厌氧消化产生的其他气体(富气)混合,以便满足混合气体甲烷浓度的低要求。
此外,该应用中的气体分析可用于监测混合气体的质量。
In landfill application often the gas quality of the collector pipe in front of the CHP is monitored
using an analyzer station, gas quality of single dwells is measured with portable instruments. The
portable analyzer COMBIMASS® GA-m can be taken out from the cabinet and used for some
portable measurements. Flow measurement is on-going, compensation is done with factors of last analysis cycle.
在填埋场应用中,通常利用分析站来监测CHP前方收集管的气体质量,利用便携式仪器来测量单井中的气体质量。便携式分析仪 COMBIMASS® GA-m可从机柜中取出,用于某些便携式测量。流量测量是持续性的,利用近分析周期的因数进行补偿。
The analyzer station COMBIMASS® GA-s hybrid can integrate all types of portable analyzer
instruments of the COMBIMASS® GA-m/ GA-e series in combination with gas modules of the GA-s hybrid series. So COMBIMASS® GA-s hybrid analyzer system can even operate as a "2-in-1-
solution". A cheaper alternative could be the analyzer type GA-e, which cannot be used for
portable measurements (but with same advantages regarding service and maintenance) because
it doesn´t contain a battery and a pump.
COMBIMASS® GA-s hybrid分析仪站与气体混合系统气体模块组合使用,可集成COMBIMASS® GA-m/ GA-e系列的许多便携式分析仪器。因此,COMBIMASS® GA-s混合分析系统甚至可作为2合1的解决方案来运行。比较廉价的替代方案是GA-e分析仪,不能用于便携式测量(但具有保养和维护方面的优点),这是因为它没有安装电池和气泵 。
Alternatively or additionally several single gas modules of the hybrid series, mounted on DIN-rails ,can be used which cannot be fitted into a GA-m. This improves the flexibility regarding gases ,analysis technologies and operation ranges. Gas circles can be built up parallel, so various gas streams can be analyzed at the same time and continuously. Beside typical IR-technology and electrochemical sensors even paramagnetic and heat conductivity sensors can be used too.
作为选择地或作为附加地,可使用混合系统的若干单个气体模块,这种模块安装在DIN导轨上,不能安装到GA-m中。这提高了气体分析技术和操作范围的灵活性。气体周期可平行建立,因此可同时连续分析各种气体流。此外,还可以使用典型的红外技术和电化学传感器甚至是顺磁和热传导传感器。
So a stationary analysis of oxygen for process control and safety (with a second parallel gas
module incl. plausibility checks) becomes possible by using a paramagnetic cell as well as high
hydrogen concentrations up to 30 Vol.-% can be analyzed by using a heat conductivity technology.
因此,对氧气过程控制和安全性的稳定分析(利用次级平行气体模块,包括真实性检查)可以通过使用顺磁测量池,并且通过采用热传导技术来分析高达30 Vol.-%的氢浓度来实现。
The pump and solenoid valves inside the cabinet enable a quasi-stationary analysis from different gas sampling points. If one sampling point is used only, also a stationary analysis with one set of gas modules is possible. Data and alarms can be stored internally or transferred to the main PLC using various standard interfaces. Further optional telecommunication modules can realize an external access to the data or can be used for functional tests and/ or maintenance diagnosis. An " a life "-signals can be sent via GSM/GPRS to a host server as an option. An uninterruptable power supply unit can keep analysis running and send out an alarm signal, even if normal power supply is interrupted.
机柜内泵和电磁阀可对不同气体取样点进行准稳态分析。如果只使用一个采样点,那么可以使用一组气体模块进行稳定分析。可使用各种标准接口,将数据和报警内部存储或传输到主PLC。更多可选的通信模块可实现对数据的外部访问,或用于功能测试和/或维护诊断。作为一个选项,可经由GSM/GPRS将"生命"信号发送到主机服务器。不间断电源组件可保持分析持续进行,并发出报警信号,即使正常供电被中断。
Pressure and temperature of the inner cabinet and the gas streams are monitored. Additional
modules for continuous control of operation and plausibility check can be supplied to increase
manipulation-safety.
监测内柜和气体流的压力和温度。可提供用于持续控制操作和真实性检查的附加模块,
以便提高操控安全性。
The gas cells and modules can be recalibrated in the cabinet. So long-time accuracy of analysis is kept at a high level. Beside manual calibration mode also an auto-calibration mode is available. A hardware key or a software version with password functionality can be used to lock configuration settings.
气室和模块可在机柜内进行再校准。因此,分析的长期精度保持在较高水平。除手动校准模式之外,还可使用自动校准模式。可使用硬件密钥或具有密码功能的软件版本来锁定配置设置。
Gas analysis stations require a high technical expenditure, which settles in the long run also in the purchase price and in maintenance costs, to achieve long-term accuracy and reliability. An auto- calibration function with a precise span gas will keep accuracy at best level. If several instruments (portable and stationary) must be bought, the total costs for investment and maintenance become high, but also measuring errors can rise up.
气体分析站需要较高的技术支出,这从长远来看标定为购买价格和维护成本,以实现长期的准确性和可靠性。具有精确标准气体的自动校准功能将保持的精度水准。如果必须购买若干仪器(便携式和固定式),那么投资和维护总成本增加,而且测量误差也可能会增大。
If an analyzer station must be sent for maintenance to the manufacturer (to keep travel costs
low), the operator has no process data available in the meantime. When a portable GA-m is used
in the COMBIMASS® hybrid station, a spare analyzer can be sent for the time of service/ repair.
The operator can put spare gas modules (2nd set) easily into the analyzer cabinet, the used
modules can be refurbished at Binder. All service work related to the cabinet can be done by
experienced and trained operating staff.
如果必须将分析仪站送回制造商进行维护(保持旅费),那么操作员在此期间将无法使用过程数据。当COMBIMASS®混合站使用便携式GA-m时,那么在维护/修理期间可发送一台备用的分析仪。操作员可将备用气体模块(第二组)轻松放入分析仪柜,所使用的模块可在Binder进行翻新。与机柜相关的所有保养作业均由经验丰富且经过培训的人员来完成。
The simplest system consists of the basic analyzer cabinet, a gas cooler and one COMBIMASS®
Click! module only to detect CH4 of one sampling point continuously.
简易系统由基本的分析仪柜、气体冷却器和COMBIMASS® Click!模块组成,该模块用于连续检测一个采样点的CH4。
SMART FEATURES OF THE SYSTEM
系统的智能特点
· Automatic analysis of up to 7 gas components with various operation ranges, using different
technologies: IR, electrochemical, paramagnetic, heat conductivity, in time cycles or continuously (with an additional gas cooler), compensated for gas pressure and temperature
采用不同技术对具有各种工作范围的最多7种气体成分进行自动分析:红外光谱、电化
学、顺磁性、导热性、时间周期或连续性(带有附加气体冷却器),用于气体的压力 和
温度补偿
· Analyzer station with automatic sampling of two gas streams (No. can be expanded)
可对两股气流自动采样的分析站(编号可扩展)
· High-performance PLC with a 4.3" colored touch panel display (standard) or a big 7" graphic
display with history and further graphic functions (option)
安装有4.3"彩色触屏显示器(标准)或具有历史记录和进一步图形功能(可选)的超
大7"图形显示器的高性能PLC
· Cabinet material: plastic or high-grade stainless steel, for indoor/ outdoor installation, with/
without heating/ cooling, monitored for ambient temperature and pressure
机柜材料:塑料或高不锈钢,用于室内/外安装,有/无加热/冷却,监测环境温度和压力
· Combination of a portable analyzer with single gas modules mounted on DIN-rails,
compensated for gas temperature and pressure
便携式分析仪组合,单个气体模块安装在DIN导轨上,用于气体的温度和压力补偿
· Strong biogas pump, filter for easy replacement
功能强大的沼气泵,易于更换的过滤器
· Plausibility check of gas parameter )(option)
气体参数的真实性检查(可选)
· Implementation of thermal dispersion gas flow meter (with integrated humidity correction for
the measurement of dry biogas flow in m³/h at standard conditions according to DIN 1343, if
the gas is water damp-saturated based on gas temperature - option)
热扩散气体流量计的使用(如果气体根据温度是水湿饱和-选项,则根据 DIN1343 对标准
条件下的干沼气流量测量进行积分湿度校正,单位为 m³/h)
· Implementation of humidity probes for calculation of dry gas flow as an option (if the biogas is
Not water damp-saturated - option)
采用湿度探头,计算作为选项的干气体流量(如果沼气非水湿饱和-选项)
· Automatic correction of gas flow based on actual gas composition (option)
气体流量信号的自动校正,基于实际的气体组成(可选)
· A test gas bottle can be connected to the cabinet with manual recalibration of gas cells and
modules (standard) or auto-calibration function (option) for a stable long-time accuracy of gas
cells
利用气室和模块(标准)的手动再校准或自动校准功能(选项),将测量气体瓶连接到
机柜,以便实现气室的长期稳定精度
APPLICATIONS VERSATILITY
应用多功能性
· Methaneous gases from biogas fermentation plants (liquid as well as solid waste fermentation,
composting)
沼气发酵厂的其他气体(液体以及固体废弃物发酵、堆肥)
· Sewage gas from digester at wastewater treatment plants
废水处理厂沼气池产生的污气
· Landfill gas
填埋气
TECHNICAL DATA ANALYZER STATION GA-s hybrid
GA-s hybrid分析站技术数据
COMPONENTS OF THE ANALYZER CABINET
分析仪柜的组成
· Analyzer cabinet for wall mounting:
· 壁装式分析仪柜:
400x400x200 (plastics) IP22, 24 VDC with a PLC and 4.3" or 7" colored touch-display or in a
bigger plastic cabinet, depending on No. of gas modules and further configurations
400 x400x200 (塑料) IP22, 24 VDC,安装有 PLC 和 4.3" 或 7"彩色触屏显示器或超大塑料机柜,取决于气体模块的编号和进一步配置
700x400x250 (stainless steel) IP22, 230 VAC with a PLC and 4.3" or 7" colored touch-display For indoor mounting in a safe and frost-free, non-corrosive ambient (+5 to + 40°C)
700x400x250 (不锈钢) IP22, 230 VAC,安装有 PLC 和 4.3 " 或 7"彩色触屏显示器
室内安装,用于安全、无霜的非腐蚀环境(+5 到 + 40°C)
· Connector for the analyzer, encapsulated solenoid valves, strong biogas pump, power
supply of the analyzer and the gas modules for two gas streams (can be expanded as an
option)
分析仪用连接器、封装的电磁阀、强劲的沼气泵、分析仪电源和气体模块用于2路气
体流(可扩展为一个选项)
· Analyzer GA-m/ GA-e, special gas modules of the hybrid-series
分析仪GA-m/ GA-e、混合系统的特殊气体模块
· Test gas connectivity for calibration of gas cells in the analyzer station
测试气体连接,用于校准分析仪站的气室
·hard- and software for gas sampling and flushing of gas cells after each sampling cycle
软硬件,用于气体采样和每个采样周期后气室的冲洗
·data transmission: 4-20 mA, digital signals, Profibus DP, Modbus RTU, Ethernet Modbus
TCP/IP, GSM/ GPRS, Ethernet
数据传输:4-20 mA、数字信号、Profibus DP、Mod bus RTU、以太网Modbus
TCP/IP、GSM/ GPRS、以太网
· External power supply box 230 VAC/24 VDC (for den plastic cabinet, which is powered for
safety with 24 V only – the stainless steel cabinet 700x400 has a separate connection room
230 VAC/ 24 VDC, so the analyzer compartment is powered with 24 V only too)
外部电源箱 230 VAC/24 VDC(用于 Den 塑料机柜,仅由 24 V 安全供电–不锈钢机
柜 700x400 具有独立的连接室230 VAC/ 24 VDC,因此分析仪室也仅由 24 V 供电)
· Automatic correction of all gas flows based on actual gas composition, calculation of dry
biogas flow at standard conditions according to DIN1343 (if biogas is not water damp
saturated a special humidity sensor can be used)
根据实际的气体组分,自动校正所有的气体流量,根据DIN1343计算标准条件下的干沼
气流量(如果沼气未水湿饱和,则可以使用特殊的湿度传感器)
·automatic closing of all gas valves when the portable analyzer GA-m is taken out of the
cabinet
当将便携式分析仪GA-m从机柜中取出时,自动关闭所有的气体阀
· Definition of concentration limits, which shall lead to alarms
定义可导致报警的浓度限制
· Multi-lingual menus via touch-screen or buttom operation
经由触屏或底部操作的多语言菜单
· Implementation of room monitoring & control with a separate LEL sensor (option)
利用独立的LEL传感器(可选)对室进行监测和控制
· Gas feed-back to the process pipe (option)
气体反馈到过程管道(可选)
· Special components for outdoor installation: heating, cooling, cabinet-in-cabinet version for
desert/ sea climate (fully climatized and ventilated)
用于室外安装的特殊组件:加热、冷却、柜中柜型,用于沙漠/海岸气候(全气候和通风)
·Mounting on a rack
安装在导轨上
TECHNICAL DATA
技术数据
No. of gas sampling points

气体采样点的数量

Standard: 2 (can be expanded up to 13)

标准:2 (可扩展为13)气体采样点的数量

No. of analog inputs

模拟输入的数量

Standard: 4, can be expanded

标准:4,可扩展

Size

尺寸

400 x 400 x 200 (standard plastic cabinet for 1 gas module

and up to 6 sampling points, indoor installation, as an option

bigger cabinets, 24 VDC with a separate power supply box

230 VAC/ 24 VDC (option)

400 x 400 x 200 (标准塑料柜,用于 1个气体模块和最多

6个采样点,室内安装,可选超大机柜,24 VDC,带独立

的电源箱230 VAC/ 24 VDC(可选)

700 x 400 x 250 (stainless steel cabinet for up to 6 sampling

points, indoor installation, or in a bigger cabinet with

integrated power supply 230 VAC/ 24 VDC

700 x 400 x 250 (不锈钢机柜,用于最多 6个采样点,

室内安装,或集成有电源 230 VAC/ 24 VDC 的超大机柜

Installation place

安装位置

Indoors, room controlled and ventilated by separate means,

+5 to + 40°C

室内,通过独立设备进行控制和通风的室,+5 到 + 40°C

Option: fully climatized and ventilated cabinet IP54 for

outdoor installation, incl. internal LEL-control and alarm,

special versions for sea and desert climate are available too

可选:完全随气温调节和通风的机柜 IP54,用于室外安装,

包括内部 LEL 控制和警报,也可使用适用于海洋和沙漠气候的特殊版本

Ambient temperature

环境温度

Option: with heater elements only up to – 25°C

可选:安装有加热器元件,最低– 25°C

+5 to +40°C, rel. humidity < 80% rel., non-corrosive

+5 到 +40°C,相对湿度< 80%,非腐蚀

Gas properties

气体性能

+5 to +40°C, 10 - 90% rel. humidity

+5 到 +40°C, 10 - 90% 相对湿度

Protection class

防护等级

IP22

Weight重量

Basic version starts at 12 kg

基本型重 12 kg

Energieverbrauch

能源消耗

50 W / h for the analysis cabinet ,Energy consumption with climate-controlled cabinet, depending on the design

50瓦/小时的分析柜,气候控制柜能耗,根据设计

Data storage (option))

数据存储(可选)

On a USB-stick (daily, weekly or monthly file storage)

U盘(每天、每周或每月文件存储

Data transmission (option)

数据传输(可选)

以太网/Ethernet Modbus TCP

Modbus RTU (RS 485)

Profibus DP

Analog signal 4-20 mA (module with 4 signals each)

模拟信号 4-20 mA(每个模块具有4种信号)

Digital signals

数字信号

Telecommunication

通信

Option: using a direct wire connection, a safe Internet-

connection or GSM/GPRS

可选:使用直接接线,一个安全的互联网连接或 GSM/GPRS

Power of the gas pump

气泵的功率

500 ml/min (during sampling)

500 ml/min(采样期间)

Gas pre-treatment

气体预处理

Gas cooling element

气体冷却元件

Fine filter

细滤器

Depending on the application, if necessary:

取决于应用,若有必要:

Coalescence filter with housing for water, pressure

controller, flaming arrestor

带防止外壳的凝聚过滤器、压力控制器、阻焰器

Size of pipe connection

管道连接件的尺寸

standard: plastic hoses with Ø 6 mm / Ø 4 mm (1 mm wall

thickness), option: all connections for stainless steel piping

标准:塑料软管,Ø 6 mm / Ø 4 mm (1 mm 壁厚),可选:

所有连接件用于不锈钢管道